I wrote this post on my iPad when I was stuck waiting for Storm Stella to calm her boots and let me get to Boston for St. Patricks day... I wasn't going to post it, it's been sitting the drafts folder ever since, but this happened to me as I was going to get a bottle of water waiting 4 hours for my next flight, and whilst I was very sad, I thought that writing it down would help... it kinda did...
'Would you still love me if I looked like her?'
Having been super morbidly obese, not many comments get to me to be honest, people think it's OK to judge you on how you look, regardless of the kind of person you are... Do they know how smart you are? do they know your job and how good you are at it? Do they know you're a fab mum? An amazing friend and all round good person? Do they know you cry every week at SuperVet and First Dates makes your heart melt because you just want everyone to feel loved? So they know how funny you are? How good you make people feel? That you spend your winter nights crocheting tea cosys for charity to stop you eating crisps? They don't know any of these things about you... and it doesn't matter because all of that means nothing to them, they just see the physical you, walking past and they feel they have the right to make massive assumptions... and they do, but do it when I'm out of ear shot eh?!
As I walked to the machine to get my water, I walked past a couple... and the first thing this woman could think to say to her boyfriend/husband/partner as I walked by was 'would you still love me if I looked like her?' ... I thought nothing of it... well I did but I didn't flinch, people have felt it's OK to pass remarks on me since I can remember... remember the woman who tried to order me a salad once! But as I walked back to my seat I had 4 hours in a packed airport to think about it, (to good when you're an over thinker at the best of times... But i couldn't help wonder does she think I'm unlovable? Does she think I'm not worthy of love because of my size? Does she think a man couldn't be attracted to me? That I repel any kind of love because I'm over weight? It's something I question all the time! I still look in the mirror and see the person I used to be sometimes and I really hate that... I know this girl was just making an off the cuff remark, she just wanted to hear 'I love you no matter what baby!' from her other half but being fat doesn't make you deaf! Everyone is entitled to an opinion, god knows I've a load of them myself, but I'd never comment on a stranger whilst they were standing in front of me... I said nothing, these were random strangers but it stuck with me for the rest of the trip... It's something that women say when they get pregnant 'will you still love me when I'm fat...' If any gobshite says 'no I won't love you when you're creating a tiny human inside you', first slap him THEN show him the door! Making a baby isn't being fat, it's a human marvel! But having fat doesn't make you any less worthy of love... I am not fat, I HAVE fat on my body... If the boy don't like it, you can google him a map to the front door! I've written posts before about things that the general public think it's OK to say to me... but it's not OK!
A couple of months ago I was out with my family in a very 'posh' restaurant (well posh for us!) and I was feeling quite good about myself! I was wearing a royal blue kimono dress from Scarlett & Jo...
I wasn't head to toe in black for a change! I was wearing my fancy suede boots and when I looked in the mirror I felt OK about being me! That doesn't happen very often, so I left the house with a 'sure it'll do'... When we got to the restaurant I made sure I sat with my back to the wall... I didn't want to get in the way of the waiters, these are the things I used to have to think about all the time when I used to go out to restaurants and I was 9 stone heavier, and these things still play on my mind. Honestly, I really don't have to worry so much about these things anymore but the fear stays with you for a long time, you feel like an inconvenience... I can't tell ou the number of times I've apologised for being me because of my size... Anyway, we had a great night, I had a great night, until we got up to leave... there was a man beside us at a table with his wife (I'm assuming it was his wife) As I got up he said 'my god that's a very fat woman, she's very big!' No one in my family flinched, we're better than that, we've had manners slapped into us with the fear of a wooden spoon... We've been taught if you don't have anything nice to say, shut up and keep it to yourself, you don't know someones story so zip it! Normally I would say nothing and just leave, go home, be upset and wait till I was alone and have a good old cry... Not this time, I decided to take my own advice and call him out on it, much to the horror and shock of my own family! I turned to him as I stood up and said 'sir, it's not news to me that I'm fat or a big woman but thank you for reminding me' he was horrified... throughout the evening we had endured his loud conversation with his poor wife (I'm making assumptions but she looked like she'd been stuck with him a lifetime!) We heard about his sister being buried in Mount Jerome, how he wasn't going to be buried there near her! Honestly we tried to ignore him as much as we could but he thought he was special, very special and better than anyone else in the room so the last thing he expected was a 'fat' woman to stand up to him... So yes, I said
'sir, it's not news to me that I'm fat or a big woman but thank you for reminding me' Immediately his wife apologised, so I stood my ground, much to the surprise of my family who torn between being glued to the ground and sprinting for the door... I don't have a temper, I don't like confrontation but when it I'm pushed and I lose it, run to the hills!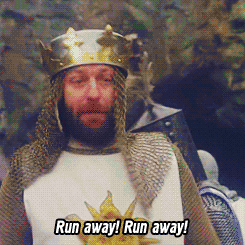 'Why are you apologising for a grown mans bad
behaviour? He sounds like the kind of man that could
apologise
himself if he had the balls... I mean we've all had to listen to him spouting off
all night
' ... Cue the tumbleweed... he said nothing... he just looked down at the table... nada! But I was on a roll... 'Sir you're incredibly ignorant and honestly if I was married to you I'd make sure you were buried in Mount Jerome, face down!' Just as I was about to spin on my suede heels the waiter apologised for him... so as loudly as I could i said 'Oh there's no need to apologise for his ignorance... his wife seems to do his dirty work for him...' Not one of my finest moments... but I spun on my hells and legged it down the stairs... I held back the tears on the way home, there was no need to make anyone else sad and my tipsy family were both delighted that I stood up for myself, bitching about 'yer man & the state of him' and sad that the night had to end like that for me... Once I got home, I got upset, mostly with anger to be honest... This man knows nothing about me... NOTHING... He doesn't know who I am, what I've achieved in my life, the joys and sadness I've experienced, nothing... He saw me getting up from a table (I was the only sober one, being the designated driver!) and he though it was OK to pick on me! WRONG!
People have no right to talk about me or you or anyone about how they look... They have no right to judge what I'm wearing, where I'm sitting or who I'm with... my size didn't affect anyones evening... my size didn't ruin anyones night... I wasn't in anyones way... I wanted to pull out my weight watchers card and flash him all the silver sevens and shout 'you think I'm big now.. you
should have seen me before!' but I'm sure my grandmother looking down on me would have struck me with lightening for shouting and not behaving properly in a fancy schmancy place ... As she taught us, manners are free, clearly his grandma didn't teach him the same... you don't know

peoples'

story.. so unless you're going to say something nice or helpful... zip it! If you allow people to treat you a certain way, then they start to believe it's ok... So you've got to put people straight... otherwise the sabotage just continues...
Do I let it derail my journey? Nope...
Would I do it again? ABSOLUTELY!
Would I do it for someone else? Damn straight...